SKU
Hampton-Duffle-Tumbled
Hampton Travel Duffle
Smooth Tumbled Leather
We are now taking pre-orders! This product should ship in 6-8 weeks after purchase.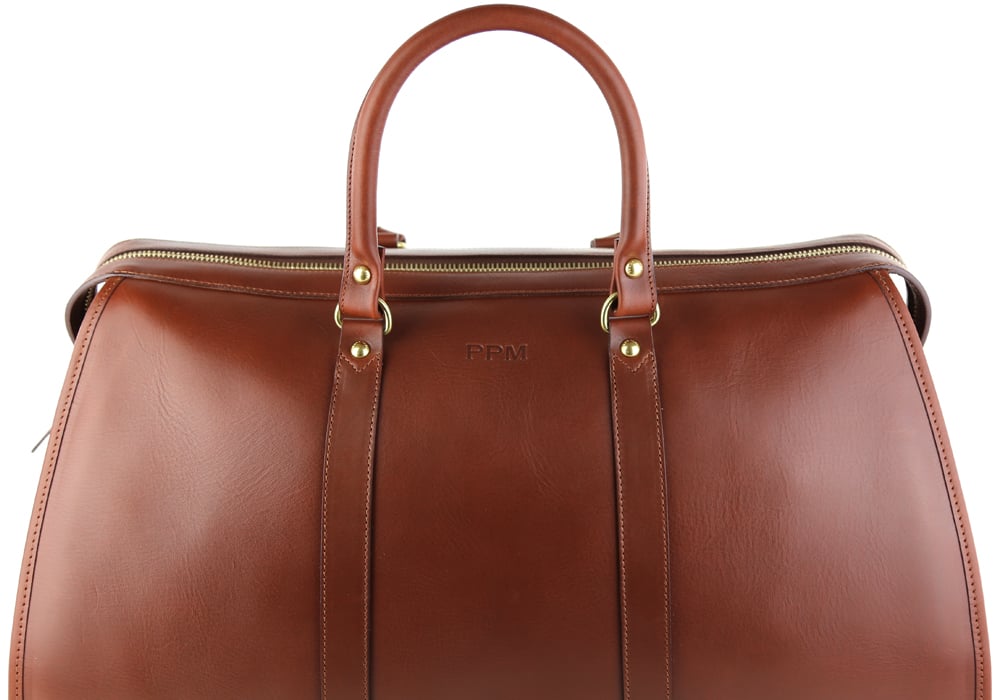 An example of where the monogram will be placed on this item.
Product Description
This duffle has come to virtually define the luxury travel bag category. With full leather body construction, extended RiRi zipper for easy access, uniquely comfortable handles, and an elegant adjustable shoulder strap, our Hampton Duffle is the perfect companion. Whether to the gym or around the world, its classic form and hand-crafted quality will get you there in style.
Signature Smooth Tumbled Leather
Solid brass hardware
Full front and back pockets
Fully extending superior Swiss RiRi zipper
Signature bound edges
Leather body straps for added strength and durability
Comfortable rolled leather handles
Double layered leather bottom with brass feet
Water resistant Sunbrella lining & zip pocket
Removable, full leather adjustable shoulder strap
Handcrafted in our Massachusetts studio
This item's measurements are:
• Width: 21"
• Height: 10.5"
• Depth: 10.5"
• Handle Length: 6"
• Weight: 4.5 lbs
Your Frank Clegg bag is crafted from exceptional leathers made especially for us. Your bag is built to last and over time will develop a unique and beautiful patina. Follow these simple care instructions to ensure a lifetime of enjoyment and adventure with your handmade Frank Clegg product.
Domestic Shipping:
All orders within the United States include shipping via Federal Express. Customers are responsible for any shipping costs on all exchanges and refunds.
International Shipping:
International shipping costs are additional and calculated at the time of purchase. Customers are responsible for all duties, taxes, or any other fees incurred when shipment arrives. Customers are responsible for all shipping charges on returns or exchanges.
Frank Clegg products are made-to-order by our team of craftsmen at our Fall River, Massachusetts workshop. Due to the nature of this work, most bags require 3-6 weeks of production time. Bespoke products generally take longer to manufacture.
While we attempt to keep many items in stock, Frank Clegg cannot guarantee the immediate availability of all our products due to high demand.
If you have questions about the availability of certain products, please contact us via email at [email protected] or telephone at 508.672.4574, Monday through Friday 8AM - 4PM EST.
---
Our products combine the finest leathers
with unparalleled construction & finishing
CRAFTSMANSHIP

We take pride in what we do, and what we do is not always easy. We have strict guidelines that ensure our products are of exceptional quality and that no short cuts have been taken. This intricate process starts with the leather, closely examining each individual hide, making sure there are no imperfections. After the leather is cut, all edges are buffed, polished and painted by hand. When the product begins to come together, finer details such as stitching are inspected to ensure quality construction. Upon completion, we perform a final inspection to certify the Frank Clegg signature of approval.
Smooth Tumbled Leather

This leather is gently tumbled in rotating drums filled with vegetable extracts to give it a distinctively soft and relaxed hand, while at the same time remaining durable. This leather is also finished with polishable waxes that will patina, but due to its more natural grain, the aging process will take longer than the harness belting. And just like our belting leather, a fine protective film is applied during the finishing process for added surface protection.
---