As legendary and alluring as the famous name associated with it, the Paul Newman Daytona is arguably Rolex's most coveted timepiece. It is an artifact of masculinity and fashion. Its story, not unlike a Hollywood film, is marked by early obstacles, romance, mystery, and a high-profile and glamorous resurfacing.
The first Daytonas were produced in small quantities beginning in 1963 with only one in twenty equipped with the "exotic" tri-color dial. They were slow to sell and early prices reportedly hovered around $300, as they were much less desirable than Rolex's popular Day-Date, Submariner, and Datejust. The early three-color Daytonas are marked by a stark black and white dial encircled with a red outer track. The sub-dials have quarter graduations that are finished in an art-deco style font, hash marks with square ends, and "Daytona" in red lettering. It was an unusual departure from the crown brand's more conservative styles, and the Daytona's fate looked grim.
Then fate took a dramatic turn.
It was in either 1968 or 1969 that Joanne Woodward bought her husband Paul Newman a Daytona reference 6239. She had the case back inscribed "DRIVE CAREFULLY ME". Newman - race car driver, movie icon, entrepreneur, and sex symbol - was photographed often sporting his Daytona on a black 3-piece military fat strap. And just like that, the timepiece became a star.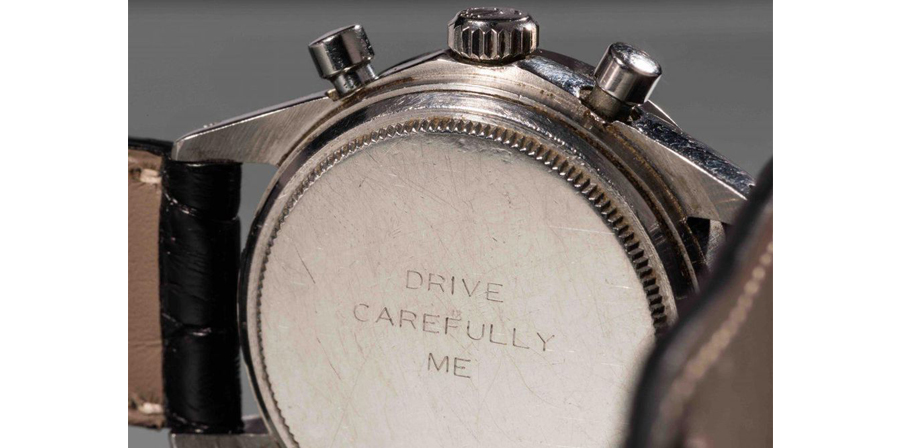 The watch model that was originally deemed too-exotic-to-sell was in such demand that a second series launched in the late 1980s. What started as a $1,500 watch, by the 1990s was a $10,000 watch. By the early 2000s it reached six digits.
But it was the mystery of Paul Newman's very own original "Paul Newman" that captivated and  confounded collectors and aficionados. It wasn't until 2017 that world discovered where that the famous 6239 was in the possession of James Cox, the former boyfriend of Newman's daughter, who remains a close friend to this day. After more than ten years of wearing the beloved watch, Newman gifted it to Cox, who was working on a treehouse in the backyard of the Newman's Westport, Connecticut, home. In October of 2017 THE Paul Newman Daytona became the most expensive watch ever sold at auction, to an unknown collector, for $17,752,500.
Our most cherished possessions often seem charged with a distinct memory or with the essence of particular loved one. They tell a story, or at least they seem to hold one. Perhaps the value of an object can be assessed solely by its empirical beauty or attributes, but as we see with the Daytona, an exotic or unfamiliar item transcends its empirical value when it becomes part of a larger story.